If you put in the energy and allow yourself to experience vulnerability with your fiancé, then this will help you grow closer to each other and also help yourself grow as a person.
A lot of introspection, reflection, and processing occurs during this weekend experience, which is why it can be draining. Remember to get rest, take breaks, talk to other couples, and especially talk to your fiancé regarding your feelings during this retreat and process your experiences together. Overall, I say we learned some pretty necessary values and grew closer to our faith as a couple.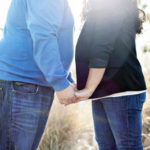 I have to say, after months of preparation and planning for our wedding, I was not looking forward to it. But I am SO glad that we went! It was a wonderful, valuable experience. The classes are led by two married couples that share their ups and downs of married life. If you're lucky (as our group was), we also had Fr. Love come to speak to us. He said mass and even offered to hear confessions.
Be prepared for being emotionally and psychologically drained! It's not a bunch of dogma smacked into your face – it's quite the opposite. The Engaged Encounter teaches you and your future spouse how to navigate marriage in a practical manner and how to keep God at the center of your marriage.
The retreat was one of the best gifts my fiance and I could ever give to our marriage. There were many special and meaningful moments (I don't want to spoil it, but you'll learn what betrothal really means during this weekend and there's a LOT of crying). Be honest with your future spouse – you only get out of the weekend what you put into it. Very thankful for this experience.
I just finished the Engaged Encounter with my fiancé and i really enjoyed our retreat. As for the actual activities for the couples go it was great. We came here because we had to but honestly it was so nice to focus on us for a weekend, since we are so busy during the week. You talk about topics in where you aren't compatible and just be honest with each other, if you haven't been already. Just come with a open heart and mind and focus on who maters most, your fiancé!
Gigi and Evan experienced their weekend in January 2013. Watch as this creative couple make their way to Santa Barbara for a Catholic Engaged Encounter weekend.
Comments from Marriage Experts
"Engaged Encounter is the best marriage preparation program in communication for engaged couples of any denomination in the U.S."  
          – Michael J McManus, author of the book, "Marriage Savers", syndicated columnist in 100 newspapers and radio commentator.

"In addition to pre-marital counseling, another wonderful way to eliminate the unpleasant surprises of early married life is a program called Engaged Encounter…"
"I strongly recommend Engaged Encounter to every couple planning a wedding."
          – Dr. James Dobson, author of "Love for a Lifetime", founder of Focus on the Family